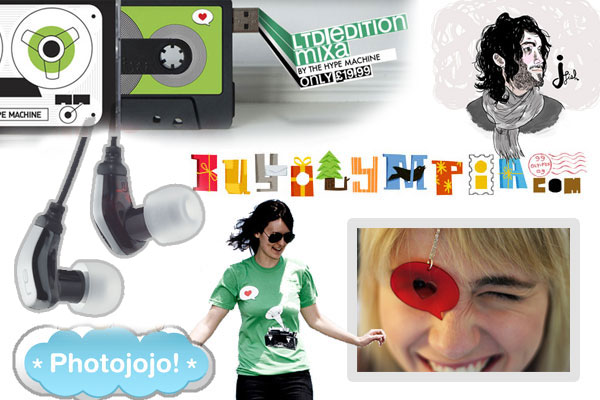 It's that time already! Our Annual User Survey is our time to gather basic details of who you are, how you use the Hype Machine, and what you think we can improve! It's only 2 pages and will help us make the site even better.
Take our Annual User Survey (UPDATE: Now Closed)
And for your time, we'll be giving away some ridiculously cool merch from companies we've hand-selected to participate:
(3) A pair of Ultimate Ears SuperFi 5 Earphones!
These babies provide an incredible, noise-isolating listening experience and retail for $170. Listening to the Hype Machine will never be the same.
(2) A custom portrait by Mel Stringer
Mel will hand draw you a digital portrait of you or a loved one! Check out her awesome portfolio or get your own for $70 by emailing her.
(2) $50 Photojojo Store Giftcard
The best photography newsletter also has one of the coolest photography shops online,  including wrap-around corner frames, wifi memory cards, and a bowling-style camera bag!
(2) $25 BuyOlympia Giftcard
I think about the Buy Olympia store as Etsy with an editor. They pick some of the best handmade goods around, like gorgeous notecards, t-shirts you won't find anywhere else and dozens of 'zines
(2) Hype Machine MIXA Cassette (USB Drive)
These limited edition Hype Machine style USB drives look just like a cassette (and even come in a cassette case) but are actually a full sized USB drive. Perfect for gift giving your latest mix!
(2) Hype Machine Green T-Shirts
Been drooling over it in our shop but haven't bought one yet? Now's your chance to snag one for free!
(2) Hype Machine Vinyl Necklaces
Yep, they are made with authentic recycled vinyl and yep, they really are that sexy.
Take our Annual User Survey (UPDATE: Now Closed)