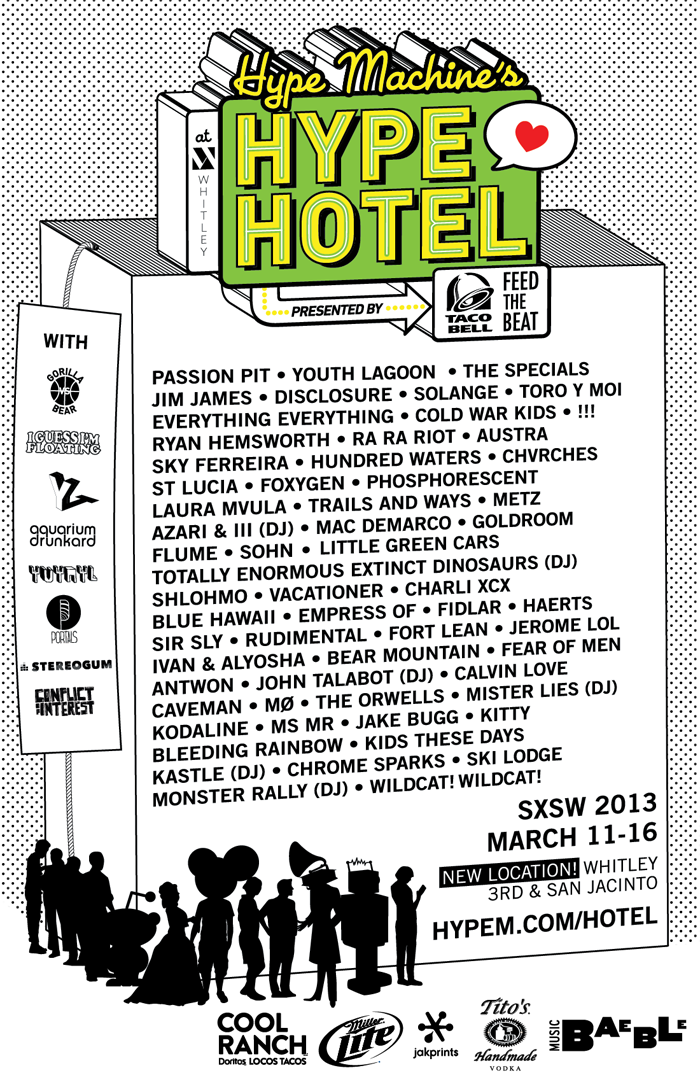 We had such a blast at Hype Hotel last year, that we just had to outdo ourselves this time! Hype Hotel 2013 will be in a larger space, so all the great things about the event will be even greater.
Hype Hotel, presented by Taco Bell in support of its Feed The Beat program, is eight days of music, drinks, and tacos, March 9-16, 2013 in Austin, TX at Whitley (3rd & San Jacinto).
Lineups are curated by the Hype Machine team and the excellent Aquarium Drunkard, Gorilla vs. Bear, Stereogum, I Guess I'm Floating, YVYNYL, Yours Truly and PORTALS. The event recreates the Hype Machine experience in real life, so that you can get away from listening to all this music on your phones, and come see it live. It's better, really.
Passion Pit will also perform at Hype Hotel on March 11 with fellow Feed the Beat artist Wildcat! Wildcat! as part of Taco Bell's first-of-its-kind rockumentary film – which will be created by fans online or at the show using #FeedtheBeat, and through a customizable live stream on FeedTheBeat.com.
A huge thanks to our presenting sponsor, Taco Bell, and sponsors: Miller, Tito's Handmade Vodka, Jakprints, Baeblemusic, High End Systems, Orange Amps, Lensley Automatic, and Cabin Fever Whisky.
RSVP is now open for free day shows. Night shows are open to SXSW badges/wristbands.