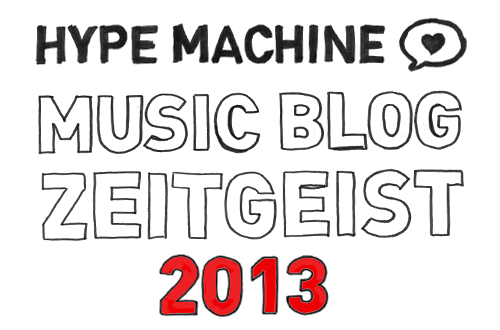 It's here! Since 2007, the Hype Machine Music Blog Zeitgeist is our annual roundup of the year's most exciting music. Here's what we have for you this time:
Top 50 Artists: We analyzed all posts in 2013 to find the 50 most-discussed artists, and asked Séamus Gallagher to illustrate. Listen to a track from each of the artists while you scroll, and click through to their latest release.
Top 50 Tracks: We compiled a list of tracks favorited the most on the site throughout the year, and asked some of the year's top artists to make a mix. The first one up is from HAIM, and we've got more coming every day this week. You can also see the full track list here.
Enjoy this look back at the music of 2013! And if you're looking for more best-of music lists, Largehearted Boy has the ultimate resource.
As an extra bonus, we've also compiled the list of album premieres that we have had in 2013, and restored the older Zeitgeist releases from 2007–2012 to their former glory. Let the archivist in you dive in!
Thank you for being with us this year.
UPDATE: As if it wasn't enough, we also wrapped up 2013 in UK blogs along with BBC6 Music. Give it a listen!