Subscription music services are great. Ask anyone who uses one and they will rave about the amazing ability to listen to almost any song anytime. And if they own a compatible portable device, or a Sonos jukebox, then the level of evangelism may reach dangerous proportions. Nothing wrong with that though, those services really ARE that good.
That is, before you count in the obstacles like unstable Windows-only application software (hi there, Napster & Rhapsody), a poor web-based experience, and the frequent inability to stream certain tracks with your subscription (that's a nasty one). Given that this is an application you would use regularly, these become a major showstopper. So I thought, until a few months ago I signed up for Rhapsody and never looked back. Why?
Fred Wilson showed me the most amazing web interface to the Rhapsody service. Ever.
This service is YottaMusic and it is an incredible way to use Rhapsody. It requires an active account to listen to music, but you can start a trial right from the site.

The UI is beautiful. There is a lightning-fast search which shows results as you type right under the search box:

Useful.
Each album has a neat page with artwork, some basic information and immediate links to play the album and explore a few other destinations. This sounds basic, but there is definite beauty and utility in the way YottaMusic executes this.

Pretty. Surprise – still useful!
Finally, the audio plays through a popup player which uses a Rhapsody plugin. Amazingly, this plugin worked from the first try in Firefox on Windows or Mac OS. I just couldn't believe it all worked! After the sense of disbelief wore off though, the music started flowing and I got too excited to sleep.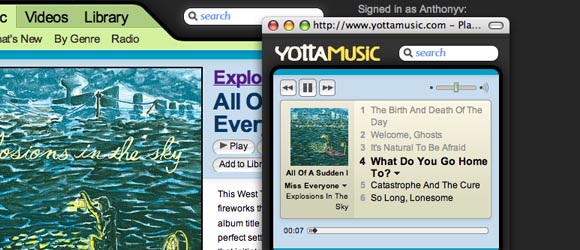 And that's YottaMusic.
MORE: Ethan has some kind words about the service and an interview with the creator, Luke Matkins up on his blog. Paul Lamere, audio geek at Sun Research, writes about it here. And Fred's original post.