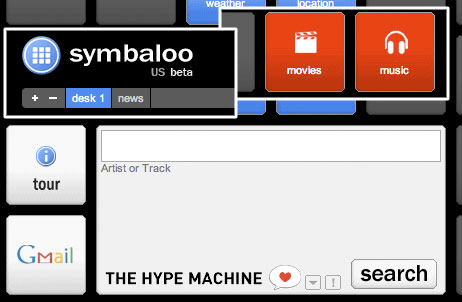 Symbaloo's premise is simple. Create a customized homepage with drag-n-drop search modules and shortcuts. Sure there are at least a dozen other sites competing for your homepage spot with news headlines, rss feeds, weather modules and more. The thing that caught my eye about Symbaloo is it's clean and unique design approach.
I also really like that you can customize everything before even signing up for an account (like we do with Hype accounts). This is a growing trend I really enjoy; giving every visitor to your site full features to experience and fall in love with, before making them commit to sticking around (and signing up).
Symbaloo were nice enough to add us to their music search module. If you head to their front page you will see a red Music box in the top right corner. Click it and then you can customize your default search to HypeM by clicking the small down arrow in the grey search area.