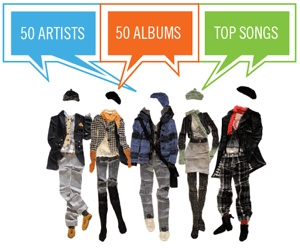 Our annual Music Blog Zeitgeist 2009 is here. All week we will be publishing the Top Artists/Albums/Songs (10 each day) and on Friday you will find out the top 10 of the year!
The Zeitgeist presents an interesting challenge each year: how do we keep taking things to the next level? This year won't disappoint. Here's a rundown:
Top 50 Artists: We tabulated the total number of songs from each band posted in 2009 by blogs on The Hype Machine. Then we invited 50 visual artists to create a new piece of artwork inspired by the band's music and including the band's name. The results have absolutely blown us away. If you love a piece, click through and let the artist know!
Top 50 Albums: We collected 550 bloggers' personal top 10 lists and assigned a total score to each of the 1,313 albums (#1=15 points, #2=14, #3=13…) to get a final ranking. We partnered with Grooveshark to power the full album streams and used CC-licensed Flickr Photos of each band as the background. You can also view the full photo behind each album and explore the individual lists that mention an album.
Top Songs Show: We changed things up a bit this year and presented our list of the most favorited songs of each month as a downloadable radio show. Since this generally skews to the dancier side of things, this is a fantastic mix to keep the party going.
This was truly a community effort and wouldn't have been possible without the musicians who put out such inspiring music, our own users, the 50 visual artists, the 50 photographers, the 550 bloggers, Jeff fromHeart On A Stick (who passed the torch a few years back), David from Largehearted Boy (who does an insane job at collecting best-of lists), Grooveshark (my Gainesville neighbors powering the album streams), Monika Wensel (the artist behind the fabric art on the splash page), SoundCloud (our Berlin friends powering the Radio Show), Adam and Gregory (for the 1-line review inspiration), our Radio Team (Dev, Abbey, Dan) and of course the rest of our awesome team @ The Hype Machine (Anthony, Zoya, Arkadiy, Scott).
Now…go fall in love with something new.